The Medical Eye Exam and/or The Vision Benefit Exam
Performed by our Board Certified Ophthalmologists
The Medical Eye Examination, performed by our Board Certified Ophthalmologists, tests for diabetes, cataracts, and other known ophthalmic problems or eye diseases including diseases of the body that affect ocular health. The Medical Eye Examination includes a thorough examination, a review of health history, medical counseling, planning, and coordination with other physicians. With regular eye exams in Pittsburgh, PA, you will protect your vision and eyesight.
At South Hills Eye Associates, Ltd., our services help you guard against common health concerns. From a cataracts evaluation to a glaucoma test, we are happy to provide the options you need to maintain good vision. Schedule an appointment at our practice today by calling 412-561-1964 or 724-745-6258
The Medical Eye Examination includes:

Visual Acuity Assessment
Test for Glaucoma
Test for Ocular Alignment
Test for Visual Field Function
Inspection of Retina (pupils may be dilated)
Test for Pupil Function
Eyelid and External Tissues
Slit Lamp Exam




The Vision Benefit Examination, performed by the Doctor of Optometry, is the basic well-eye exam.  During the exam, the optometrist will test for ocular disease and vision correction through prescription eyeglasses and/or contact lenses.   The Optometrist will  provide a written prescription for fulfillment at our offices or the place of your choosing.   Should any medical eye issues be discovered during the vision exam, the patient will be referred to one of our ophthalmologists for further evaluation and/or treatment.

Please use your Medical Insurance for the following:

Allergies 
Bells Palsy 
Blurred Vision
Burning Eyes
Cataracts
Chalazion
Corneal Ulcers
Cysts 
Decreased Vision (or loss of) 
Diabetes 
Double Vision 
Droopy Lids
Dry Eye
Eye Injury
Eye Trauma
Flashes
Floater
Foreign Body
Glaucoma
Halos
Headaches
Itchy Eyes
Macular Degeneration
"Pink Eye" (Conjunctivitis)
Red Eyes
Retinopathy
Rheumatoid Arthritis
Rosacea
Shingles
Stye
Swollen Lids
Twitching

Please use your Vision Care benefit for new eyeglasses or contact lenses prescriptions. If you have a Vision Care benefit, your insurance provider may require the contact lens exam be performed on the same day as the vision exam.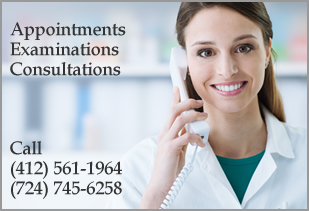 Prepare for Your Visit
For information regarding what to bring to your appointment, please visit our Patient Registration page.
For Your Appointment
Due to insurance regulations, we are unable to bill your Medical Insurance and your Vision Care Plan on the same day. If you need an eye appointment for a Medical issue and you also want an exam for eyeglasses using your Vision Care Plan, you cannot schedule both appointments for the same day unless you plan on paying out-of-pocket for the eyeglasses exam on the day you have scheduled both appointments.
If you schedule an eyeglasses exam using your Vision Care Plan but also have a medical eye issue which must be addressed at the time of this appointment, South Hills Eye Associates must bill your Medical Insurance first, and have you reschedule the eyeglasses exam. Otherwise, you will be responsible to pay for a sizable medical bill. In either case, we must follow the regulations dictated by your insurance provider. For more information on insurance and billing, visit Insurance Information
Ocular Health Information Links
Like us on