Our Surgical Procedures
LASIK / Refractive Surgery for Laser Vision Correction

Our Board Certified Ophthalmologists offer state-of-the-art Laser Vision Correction. We treat nearsightedness, farsightedness, astigmatism and presbyopia. Our experienced surgeons will work with you using a thorough pre-operative assessment to first verify if you are a good candidate for a vision correcting procedure and secondly, to determine which procedure is best suited for you.
What is Refractive Surgery?

Refractive Surgery is a group of procedures designed to permanently reduce or eliminate your need for contact lenses or glasses. The most commonly performed refractive surgery is customized LASIK, and we also perform Advanced Surface Ablation (ASA) including custom PRK, as well as traditional LASIK and traditional PRK. These procedures can only improve vision if your vision is able to be corrected with glasses or contacts. We use the VISX Star S4 laser with a CustomVue wavefront guided ablation for our custom LASIK and custom PRK patients. The wavefront system provides unique high resolution scans of the eye to construct a personalized laser treatment for each patient. The VISX system has a tracking device to compensate for small eye movements to provide the highest level of precision.
What is LASIK?

In LASIK, the surgeon uses a computer guided excimer laser to gently remove a thin layer of tissue from the cornea (the front clear part of the eye) to achieve a desired vision correction. Before the excimer laser is used, a thin flap of corneal tissue is created. This flap is raised and laid back while still attached to the cornea, so that the cornea can be reshaped with minimal discomfort after the surgery. The flap is replaced into normal position within minutes, and natural forces hold the flap in place again. We often will use the IntraLase system to create the flap. This state-of-the-art system creates the flap with a separate laser, so that the LASIK is a bladeless procedure. It provides superb precision and effectiveness.
Another option is a microkeratome, which is a different precise flap-making instrument which uses a tiny blade.
What is ASA and PRK?

In ASA and PRK, the surgeon first removes the surface layer of cells on the cornea called the epithelium. Next, they reshape the cornea with the excimer laser in the same way it is performed in LASIK, except with no flap creation. No blades are required, and a special soft bandage contact lens is placed for a few days then removed when the epithelium heals. These procedures are often utilized as an excellent alternative to LASIK. They are also used when the cornea is too thin for LASIK, or other factors contraindicate LASIK.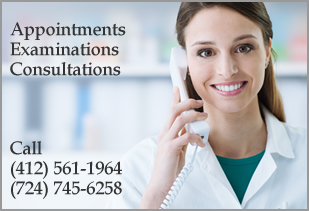 Prepare for Your Visit
For information regarding what to bring to your appointment, please visit our Patient Registration page.
Insurance and Payment
For important information regarding insurance and payment for your upcoming appointment and related insurance regulations, please visit our Insurance Information page.
Please Note: If you have a Vision Care benefit, your insurance provider may require the contact lens exam be performed on the same day as the vision exam.
Like us on
What to Expect

During the LASIK procedure there is no pain, but you will experience less than a minute of a pressure sensation. Following the surgery, some patients experience a scratchy feeling, which is often resolved the next morning.
During PRK, there is no pain, and much less of a pressure sensation than with LASIK, if any at all. Following these procedures, a scratchy feeling along with some mild to moderate discomfort can be present for a few days which are helped by the bandage contact lens and preservative free moisture drops.
Most patients elect to have both eyes treated with laser vision correction on the same day. Call us today to meet with one of our Board Certified Opthalmologists.


Additional Resources
For more information, refer to these links: