Caring & Compassionate Optical Services in Pittsburgh, PA
Your eyes don't just provide you with one of the five main senses, but they are also a major organ of your body. That means it is important to do what you can to keep your eyes healthy. South Hills Eye Associates helps you do just that by providing you with optical services in Pittsburgh, PA. Our dedicated group of ophthalmologists as well as our optometrist offers the highest quality of comprehensive ophthalmology and vision services to our patients.
The doctors on our staff have expertise in advanced cataract surgery, laser vision correction (LASIK and PRK), glaucoma diagnosis and treatment, macular degeneration diagnosis and treatment, dry eye diagnosis and treatment, eye examinations, and diabetic eye care. Furthermore, they are certified in the use of multifocal and astigmatism correcting lens implants, as well as the most advanced wavefront (custom) and bladeless (Intralase) laser vision correction.
ONeed additional care? Our sister company--South Hills Optical--can meet all of your optical and contact lens needs, including eye examinations and prescription fulfillments. Turn to us to ensure your eyes are getting the care they need.


Advanced Technology, Procedures, and Equipment
When you come into our clinic, you know that we are going to make your vision and ocular health our number one priority. That is why we offer comprehensive services, advanced technology, and the latest procedures to meet your eye care needs.
Our offices are equipped with state-of-the-art lasers, retinal cameras and scanners, corneal topographers, and other diagnostic and treatment aids. Additionally, our certified opticians and contact lens technicians offer a full range of optical devices customized to fit your specific vision needs.
Feel confident turning to us whenever you are in need of any of the following optical services:
Diabetic Vision Screening Services
Cataract Evaluation Services
Dry Eye Testing Services
Laser Eye Surgery Services
Vision Testing Services
Protecting Your Eyes Now & into the Future
The ophthalmologists at our clinic also operate at St. Clair Hospital, Mt. Lebanon Surgical Center, Peters Township Surgery Center, and within the University of Pittsburgh Medical Center system at UPMC South and the Eye & Ear Institute of Pittsburgh. By using the resources available to them at these locations, they are able to better provide patients with the care they need to help them with any optical ailments they might be suffering from.
Contact us to schedule an appointment with one of our ophthalmologists or optometrist. We look forward to helping patients located throughout the Pittsburgh, Pennsylvania, area.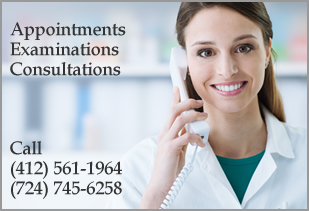 Prepare for Your Visit
For information regarding what to bring to your appointment, please visit our Patient Registration page.
Insurance and Payment
For important information regarding insurance and payment for your upcoming appointment and related insurance regulations, please visit our Insurance Information page.
Like us on