Contact Lenses at South Hills Eye Associates
Vision Correction
South Hills Eye Associates carries all major brands of contact lenses, addressing any vision correction need. We also have contact lenses for patients who experience dry eyes and need multifocal correction.

All Major Brands
South Hills Eye Associates carries all major brands of contact lenses in addition to:
We carry daily disposable lenses for people with astigmatism and bifocal wearers.

We fit specialty contact lenses designed to maximize visual performance.

We fit rigid gas permeable lenses.
Bausch & Lomb

BioTrue Daily
BioTrue 1 Day Multifocal
BioTrue 1 Day Toric
Ultra
Ultra for Presbyopia
Ultra for Astigmatism

Johnson & Johnson

Acuvue Moist 1Day
Acuvue Moist for Astigmatism
Acuvue Oasys 1 Day
Acuvue Oasys1 Day
Acuvue Moist 1 Day Multifocal
Acuvue Oasys 1 Day Toric
Acuvue Oasys for Astigmatism
Acuvue Oasys for Presbyopia
Acuvue Vita
Acuvue Vita Toric

Alcon

AirOptix for Astigmatism
AirOptix with Hydraglyde
Dailies Aqua Comfort Plus
Dailies Aqua Comfort Plus Toric
Dailies Aqua Comfort Plus Multifocal
Dailies Total 1
Dailies Total 1 Multifocal

Cooper Vision

ProClear Multifocal
ProClear Toric Multifocal
ProClear Toric
Biofinity
Biofinity Energys
Biofinity Multifocal
Biofinity Toric
Biofinity Toric Multifocal
Clairti 1 Day Toric
Clairti 1 Day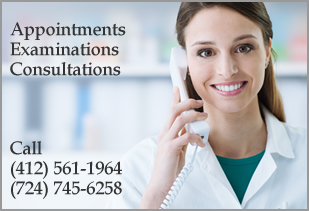 Prepare for Your Visit
For information regarding what to bring to your appointment, please visit our Patient Registration page.
Insurance and Payment
For important information regarding insurance and payment for your upcoming appointment and related insurance regulations, please visit our Insurance Information page.
Please Note: If you have a Vision Care benefit, your insurance provider may require the contact lens exam be performed on the same day as the vision exam.
Re-Order Contacts Online
For your added convenience, you can now reorder your contact lenses online using this easy order form. You no longer need to come in or call us to order your contacts. Just complete the form below and submit it. We will contact you when your order comes in for pickup or ship directly to you! Note: We cannot reorder your contacts if your prescription has expired. Contact lenses prescriptions are valid for one year.
Like us on