Contacts Also Available from Our Eye Clinic in Pittsburgh, PA
Get clear vision without the hassles of glasses by switching to contacts. Whether you intend to wear contact lenses daily or only on certain occasions, South Hills Eye Associates helps you find a comfortable, effective solution.
We carry all major brands of contact lenses, addressing any vision correction need. In addition to these brands, our eye clinic in Pittsburgh, PA, also offers the following products:
Contact Lenses for Patients with Dry Eyes
Contact Lenses for Patients Who Need Multifocal Correction
Disposable Lenses for Bifocal Wearers
Disposable Lenses for Patients with Astigmatism
Furthermore, we fit specialty contacts designed to maximize visual performance, including rigid, gas-permeable lenses. Schedule an eye exam appointment today to start exploring your options.

Why Choose Contacts?
The choice between glasses, contacts, or even laser eye surgery comes down to your particular vision needs and your lifestyle preferences. If you don't like the way you look wearing glasses or get tired of constantly cleaning them, contact lenses may be right for you. You'll also experience total visual correction rather than the blurry edges and glare reflections created with glasses.
Best of all, recent advancements have made contacts more comfortable to wear than ever before. Whether you're a new patient or a returning patient, we invite you to ask us about what contact lenses have to offer you.
Bausch & Lomb

BioTrue Daily
BioTrue 1 Day Multifocal
BioTrue 1 Day Toric
Ultra
Ultra for Presbyopia
Ultra for Astigmatism

Johnson & Johnson

Acuvue Moist 1Day
Acuvue Moist for Astigmatism
Acuvue Oasys 1 Day
Acuvue Oasys1 Day
Acuvue Moist 1 Day Multifocal
Acuvue Oasys 1 Day Toric
Acuvue Oasys for Astigmatism
Acuvue Oasys for Presbyopia
Acuvue Vita
Acuvue Vita Toric

Alcon

AirOptix for Astigmatism
AirOptix with Hydraglyde
Dailies Aqua Comfort Plus
Dailies Aqua Comfort Plus Toric
Dailies Aqua Comfort Plus Multifocal
Dailies Total 1
Dailies Total 1 Multifocal

Cooper Vision

ProClear Multifocal
ProClear Toric Multifocal
ProClear Toric
Biofinity
Biofinity Energys
Biofinity Multifocal
Biofinity Toric
Biofinity Toric Multifocal
Clairti 1 Day Toric
Clairti 1 Day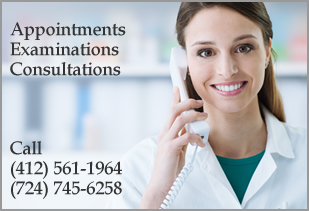 Prepare for Your Visit
For information regarding what to bring to your appointment, please visit our Patient Registration page.
Insurance and Payment
For important information regarding insurance and payment for your upcoming appointment and related insurance regulations, please visit our Insurance Information page.
Please Note: If you have a Vision Care benefit, your insurance provider may require the contact lens exam be performed on the same day as the vision exam.
Like us on