See Clearly with Eye Surgery in Pittsburgh, PA
South Hills Eye Associates, Ltd. provides high-quality vision services. As your center for eye surgery in Pittsburgh, PA, we are committed to providing care and support that empowers you to take charge of your eye health and vision. With our assistance, it will be easy to attain treatment for various conditions.
We are a dedicated team comprised of specialists in the fields of ophthalmology, optometry, and optical and contact lenses. Our board-certified ophthalmologist provides medical and surgical care within the practice. Additionally, our surgeons either currently hold or have held university appointments to teach surgical techniques to ophthalmology residents.
With two locations in Mount Lebanon and Canonsburg, we can provide comprehensive eye health and vision services. These treatments include laser eye surgery and surgical care. Join our practice and discover how compassionate care and the latest treatment methods can improve your sight.
Types of Surgery We Offer

All of our surgeons perform no-stitch cataracts removal. Also, we offer advanced technology lens implants, multifocal/bifocal lens implants, and corrective lenses. Your eye health needs are unique and distinct. Therefore, we always emphasize a personalized approach to care. All treatments begin with an eye exam. Then, we work closely with patients to identify issues and then provide an effective avenue for treatment.
Our eye care center provides a variety of treatments. By utilizing proven treatment methods and state-of-the-art technology, we can administer care that best addresses your needs. Our capabilities include:
Laser Vision Correction: LASIK, PRK, Custom Treatments, Intralase/Bladeless
Glaucoma Treatment: Trabeculectomy with or without Antimetabolites, Trabeculoplasty with the Argon or Selective Laser Platforms, Tube Shunts, Releasable Suture Techniques
Eyelid Disorder Correction: (Entropion, Ectropion, Droopy eyelids, tumors, styes)
Corneal Treatments: (Pterygium with Conjunctival grafts, Removal of tumors, scars)
Care for Eye Muscle Abnormalities/Strabismus
Eye Trauma Surgery
Locations for Surgery
Our ophthalmologists operate at St. Clair Hospital, Mt. Lebanon Surgical Center, Peters Township Surgery Center, and within the University of Pittsburgh Medical Center system at UPMC South and the Eye and Ear Institute.
Vision loss is the disability that many Americans fear most. Our goal is to treat patients with compassion, just as we would want our family and friends to be treated. Call us today to meet with one of our board-certified ophthalmologists.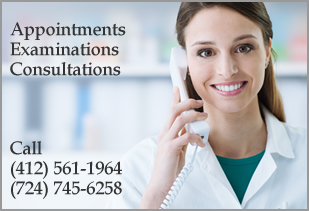 Prepare for Your Visit
For information regarding what to bring to your appointment, please visit our Patient Registration page.
Insurance and Payment
For important information regarding insurance and payment for your upcoming appointment and related insurance regulations, please visit our Insurance Information page.
Please Note: If you have a Vision Care benefit, your insurance provider may require the contact lens exam be performed on the same day as the vision exam.
Like us on