Insurance Plans and Proper Billing
at South Hills Eye Associates
South Hills Eye Associates accepts most insurance plans.
Download Insurance List (PDF) to determine if your insurance plan is in our network of providers.


Prior To Your Visit
Please verify your coverage with your insurance provider and present your insurance card to our front desk receptionist to ensure proper billing.

Medical Eye Exam Coverage

Medical Eye Exams for cataracts, glaucoma, diabetes are covered by medical insurance.

Some insurance plans require a referral from your primary care physician to authorize payment for the procedure through the insurance coverage.

Please contact your primary care physician for this referral in advance of your visit. Without the required referral, you would be responsible for the exam fee and any other associated service / procedure fees.

Note: Please read IMPORTANT INFORMATION REGARDING INSURANCE REGULATIONS below.

Vision Care Benefit Coverage


Some insurance plans include a Vision Eye Exam or Vision Care Benefit. This benefit can be used to cover basic exams for eyeglasses and contact lenses.

Prior to your visit, please verify your type of coverage with your insurance company and how often you are eligible for this benefit (e.g. every 12-24 months or within a calendar year) and the date of the last time this insurance benefit was used.

If your insurance provider requires you to submit a Vision Care benefit form, bring your form to the receptionist at the time of your visit upon check-in or you will be financially responsible for payment at the time of your visit.

Note: Please read IMPORTANT INFORMATION REGARDING INSURANCE REGULATIONS below.

Services Not Covered by Insurance

Please be aware that some services are not covered by all insurance plans. These costs may include:

Co-Pays – Most insurances require you to pay a small fee at your visit.

Deductibles -- Many insurance plans require you to pay up to a certain amount each year before benefits start.

Refraction – This measurement for eyeglass lenses may or may not be considered a medical service and, therefore, may not be covered by your insurance plan. Payment for this service is due at the time of your visit.

Other Services – These are services which insurance plans do not typically cover. Some of these services include contact lens services, Laser Vision Correction (LASIK and PRK), Presbyopia-correcting lens implants, and Toric Lens implants or other procedures to reduce astigmatism at the time of cataract surgery.

IMPORTANT INFORMATION REGARDING INSURANCE REGULATIONS

Due to insurance regulations, we are unable to bill your Medical Eye Exam Insurance and your Vision Care Benefit Plan on the same day. If you need an eye appointment for a medical issue and you also want an exam for eyeglasses using your Vision Care Benefit Plan, you cannot schedule both appointments for the same day unless you plan on paying out-of-pocket for the eyeglasses exam on the day you have scheduled both appointments.

If you schedule an eyeglasses exam using your Vision Care Benefit Plan but also have a medical eye issue which must be addressed at the time of this appointment, South Hills Eye Associates must bill your medical insurance first, and have you reschedule the eyeglasses exam. Otherwise, you will be responsible to pay for part or all of your medical bill. In either case, we must follow the regulations dictated by your insurance provider.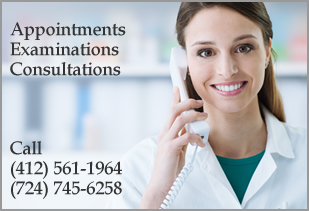 Payment Information
Please note that payment is required at the time of service.  Please be prepared to pay your co-payment on the day of your visit.
Pay My Bill Online
To make an online payment, visit our secure payment page
Methods of Payment

We accept Visa, MasterCard, Discover, AMEX and
Debit Cards, Cash, and Check in our offices at time of visit.
Like us on